Hot
New
Pre-order
Out stock
SiaLinda for Men: Vest Sigurd, pocket fasteners, cotton, imitation leather, black
incl. VAT (Export non-EU net)
Shipping
calculated at checkout.
PRODUCT INFORMATION
Sizes
Any questions?
Custom HTML
PRODUCT INFORMATION
The vest Sigurd impresses with its classic elegance, which fits perfectly to many SiaLinda corsets.
The used pocket closures are the same as in many of our corsets...
The upper material is with about 5% spandex, which means a certain elasticity. This in turn makes for the high level of comfort. This comfort is reinforced by the lining, which is made of pure cotton. Thus, the vest Sigurd can also be worn very well without a shirt, on the skin.
Alternatively we recommend a white or black shirt (see picture).
A trimming from imitation leather at the shoulder and at the pockets sets accents.
The vest Sigurd is closed with 4 pocket closures.
The two lower pockets are usable.
At the back it is adjustable by an adjustment bar with buckle
.
Tip: In our blog www.SiaLinda.de we present the vest Sigurd in more detail with more photos!
➡️ Vest Sigurd in the SiaLinda Blog (Link opens another page)
Attention: As always with our sizes, these fall out smaller, than in Germany usual, but correspond rather to French or Italian sizes!
Please note the size and measurement table in the photos.
As a rule, you should choose about one size larger than normal for German manufacturers.
Material & Sweep
Material:
Outer material: 94.2% polyester, 4.8% elastaneInterior material
: 100% cottonCareinstructions


:
Washable up to 30 degrees, machine wash.
Details see care instructions in the article.
Sizes
| | |
| --- | --- |
| HEIGHT: | 180 cm - 5' 11" |
| BUST: | 83 cm - 32" |
| WAIST: | 57 cm - 22" |
| HIPS: | 88 cm - 35 |
| SHOE SIZE: | 39 - 6 |
Note: you can configure unique tab per product
Any questions?
LT01: 70% wool, 15% polyester, 10% polyamide, 5% acrylic 900 Grms/mt
Machine wash
Mashine wash, permanent press
Machine wash, gentle or delicate
Hand wash
Do not wash
30°C or 80°F
40°C or 105°
50°C or 120°F
60°C or 140°F
70°C or 160°F
95°C or 200°F
30°C or 80°F
40°C or 105°F
50°C or 120°F
60°C or 140°F
70°C or 160°F
95°C or 200°F
Do not wring
Bleach if needed
Do not Bleach
Non-chlorine bleach if needed
Non-chlorine bleach if needed
Trumble dry
Dry normal, low heat
Dry normal, mediun heat
Dry normal, high heat
Dry normal, not heat
Hanf to dry
Drip dry
Dry flat°
Dry in the shade
Don not dry
Don not tumble dry
Dry
Do not dry Clean
Iron any temp, steam
Do not iron
Maximum 110°C or 230°F
Maximum 150°C or 300°F
Maximum 200°C or 390°F
No steam
Dryclean
Any solvent
Except tetrachlorethylene
Petroleum solvent only
Wet cleaning
Note: you can configure same tab for all products at your store
Custom HTML
Here we have compiled some questions that we receive time and again.
If you have another question, please do not hesitate to ask!
This can be done quickly and easily, for example, via our contact form.
Kundenbewertungen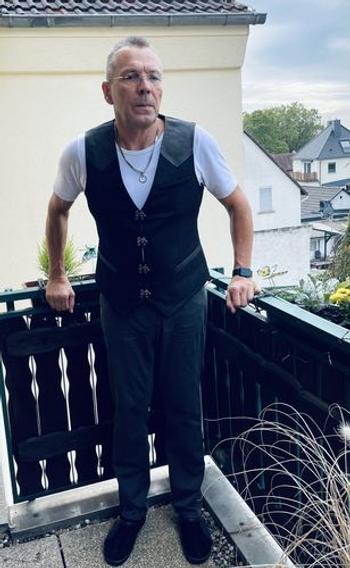 15.10.2021
Wir haben diese Weste auf der Messe in Hofheim entdeckt und waren sofort begeistert. Sie sitzt wie angegossen und man kann sie überall tragen.
16.01.2022
Ich empfehle dieses Produkt
Weste
Ein sehr hochwertig gearbeitetes und schönes Stück. Fand nicht nur bei mir großen Anklang.
Sven

Germany
11.12.2021
Ich empfehle dieses Produkt
Passt perfekt
Die Weste passt perfekt und ist sehr gut verarbeitet. Ich würde wieder bei euch einkaufen.
09.12.2021
Ich empfehle dieses Produkt
Tolle Weste
Hat anhand der gegebenen Maße perfekt gepasst und meiner Frau sehr gut an mir gefallen.
Anonymous

Germany
09.12.2021
Ich empfehle dieses Produkt
Beratungsqualität
Passt wie angegossen. Dank der guten Beratung habe ich eine gute Wahl getroffen.
Michael S.

Germany
08.12.2021
Ich empfehle dieses Produkt
weste
passt sizt und hat luft
08.12.2021
Ich empfehle dieses Produkt
Sehr zufrieden
Die Weste hat eine sehr gute Paßform und ist sehr gut verarbeitet. Bei euch passt Qualität und Preis immer zusammen.
Dietmar B.

Germany